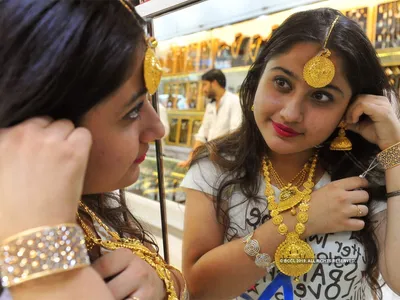 Gold Slumps Below $1,800 as Fed Fears Resurfacea
Gold prices sank below key levels on Tuesday, with metal markets back under pressure as stronger-than-expected U.S. data boosted the dollar and ramped up uncertainty over strength in the U.S. economy and how the Federal Reserve will respond to it. The dollar rose for the first session in four on Monday, recovering from a five-month low after U.S. factory orders and services sector data showed that some facets of the economy were running well above expectations, which could feed into inflationary pressures. This could push the Fed into raising rates for longer than expected, especially if inflation remains stubbornly above the central bank's target range. While the Fed has flagged smaller rate hikes in the coming months, the central bank also warned that rates could peak at much higher-than-expected levels. Such a scenario would be negative for most non-yielding assets, with gold likely to be impacted the most. The central bank is now set to meet next week in its last meeting for 2022.
Spot Gold Was Flat Around $1,769.30 An Ounce, While Gold Futures.
were steady at $1,781.55 an ounce. Both instruments tumbled around 1.7% on Monday, their worst day in nearly three months. Rising interest rates were the biggest weight on bullion prices this year, as higher yields on debt pushed up the opportunity cost of holding gold. While the yellow metal has recovered from lows hit earlier this year, its outlook remains constrained by uncertainty over the path of U.S. interest rates. Other precious metals were also subdued on Tuesday after falling sharply in the prior session. Platinum futures fell 0.1%, while silver futures were flat around $22.422 an ounce. Both metals plunged 2.4% and 4.4% on Monday, respectively. Among industrial metals, copper prices reversed early gains on Monday as fears of higher interest rates largely offset optimism over a potential recovery in Chinese demand. Copper futures were flat around $3.7900 a pound after plummeting 2% in the prior session. While the red metal marked a strong recovery over the past two weeks on growing optimism over the withdrawal of anti-COVID measures in China, fears that higher interest rates will further stymie economic activity appeared to have cut short the recovery. China has still given no signal that it will scale back the entirety of its zero-COVID policy, having so far scaled back only select measures in its major cities.